Item number: 02A0173L
Material: organic cotton 97%
                 elasticfibers 3%
Size:XXXL
Certification: The Global Organic Textile Standard
Place of origin: Made In Taiwan100%
product features: ENEH plussize control briefs are comfortable form-fitting shapes, and lightweight,breathable materials; you'll hardly notice you're wearing anything at all.
Organic raw cotton: It is madeof high-quality imported 100% organic raw cotton and certified by the standardEuropean Control Union organic cotton.
Made in Taiwan: ENHE is made inTaiwan from weaving, design and tailoring.
ENEH organic cotton contain no chemical, no dye, no harmfulsubstances Breathable and sweat-absorbent
Measuring Size Table
Size(cm)

waist

Waist to leg opening 

length

thigh

XXXL

37

20

31.5

26

* The products are all measured by hand, and the error value is in the range of 1~3cm.
ENEH Organic Cotton Certified to GOTS Organic Standards
What is GOTS Organic StandardCertification
The Global Organic Textile Standard, GOTS,which currently crosses nationalboundaries, has become one of the most well-known organic standards in theworld, providing a reliable guarantee for end-consumers, from raw materialproduction, environmentally friendly and socially responsible processes toready-to-wear marking. Currently, seven accredited certification bodies,including Control Union of the Netherlands and IMO of Switzerland, can perform validation in accordance with GOTS standards.
ENEH Organic Cotton uses rawmaterials certified by the Dutch Control Union Certification Agency for GOTS Organic Standards.
 Why ENEH usesorganic cotton
Environmental love of the earth
Cotton clothing raw materials fromcotton, cotton planting about 2% of the world's arable land, but theuse of the world's pesticide consumption of 25%,in order to pursue the efficiency and speed of the harvest, a large numberof chemicals (Agent Orange, pesticide, growth hormone, etc.), and most of theneurotoxins, wearing on the body but in a slow way to release the dose. Inorder to the appearance of the product to pursue color changes, the use of allkinds of chemical bleaching, dyeing solid color, which in the middle fromplanting to weaving every step of the toxic substances produced onenvironmental pollution is very large.
Organic cotton does not usepesticides, Agent Orange or other chemical fertilizers, is the use of lessenvironmental impact of methods and materials for cultivation, organicproduction systems to supplement and maintain soil fertility, the establishmentof biodiversity of agriculture.
 Nature to keephealthy
Many allergies are caused bychemicals in the cotton fibers of our clothes, the general cotton clothing evenif the use of high-grade cotton, but also can not avoid the use of pesticide chemicalfertilizer cultivation, clothing made of organic cotton, no pesticides andchemical remains, the use of the most natural raw cotton color, to avoidchemical dyes on the body damage.
The use of organic cotton does nothave the chemical peeling of natural waxes, so most fabrics have specialsmoothness and weight, making the fabric particularly delicate in itsoverhanging state and reflecting and absorbing light in a gentle manner.
What is"organic cotton"?
Organic cotton is the use ofnational norms of organic farming methods to grow cotton, according to theUnited States USDA organic norms, organic cotton mustmeet the following conditions:
Cotton fields continue to last morethan 3 years without using chemical fertilizers, pesticides.
Seeds are not administered withfungicides and are not genetically modified.
No pesticides, herbicides, defoliator.
A line must be drawn against fieldsthat have not been cut organically.
After the international organiccotton certification unit certification.
Washing method recommendations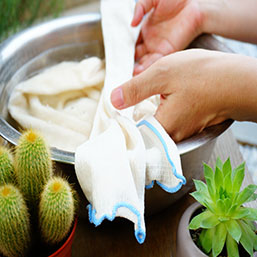 •Choose neutral detergent.
•Put it in the laundrybag.
•If washed by hand, completedehydration is required.
•avoiding directsunlight while air dry outdoors.
Normal phenomenon
•Brown little point
ENEH organic cotton commodities,there are many natural brown dots, these are organic cotton stem and leaftissue, do not cause any tactile effects, as the number of washing increasesand gradually disappear.
•Color turns white
ENEH organic cotton turns white asthe number of washings increases.
No advice
•It is not recommended to use laundrydetergents containing fluorescent bleach, or containing grease andflavor,clothing may deteriorate and discolor.
•Avoid the use of softeners and bleach,will destroy the good water absorption of organic cotton, could not present theoriginal soft feel.
•Drying clothes with a dryer may causeshrinkage,fluffs,and the socks may become inelastic or other problems.
•Do not dry-clean, ifit must be ironed, use a low temperature.